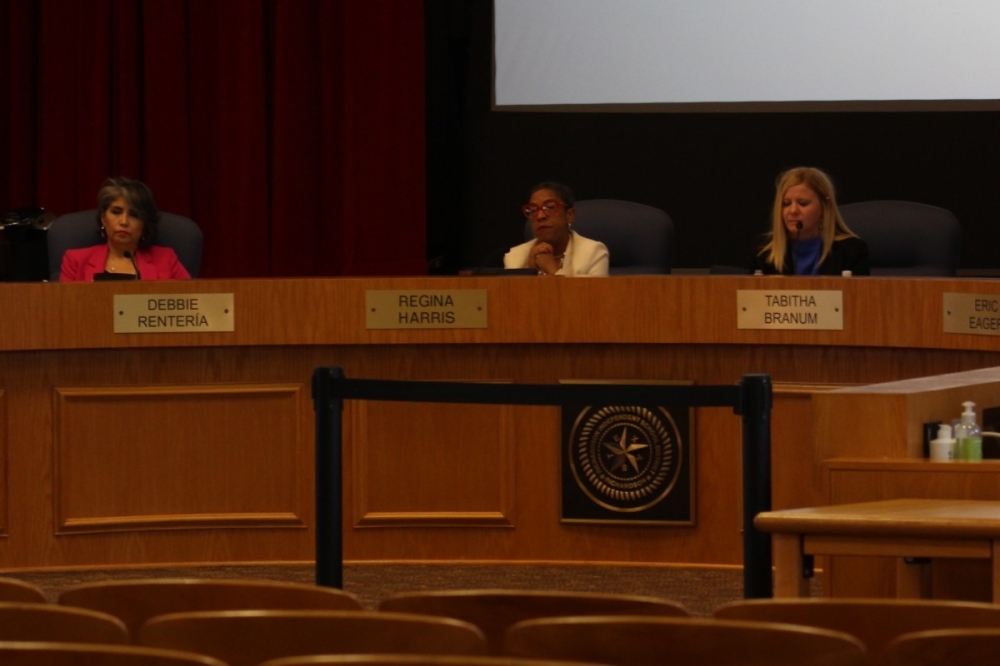 The Richardson ISD board of trustees approved a resolution 6-0 to request modifications for Texas primary elections. (Jackson King/Community Impact Newspaper)
Richardson ISD approved a resolution requesting the Texas Legislature to modify primary election days in order to promote safety on campus.
The resolution was approved unanimously by the board of trustees, with trustee Megan Timme abstaining due to her connection to the lobbying portion of the Region 10 Education Service Center.
Interim superintendent Tabitha Branum cited the shooting that occured in Uvalde, in which 19 children were shot at an elementary school May 24, as a major reasoning for the legislation.
"While I want to express that I believe that the majority, if not all, of the voters who want to come in and exercise that right to vote are doing so with the purest intentions, we also know that during that time our buildings are vulnerable," Branum said.
On the same date of the shooting, several RISD campuses were open to the public for a chance to vote in the Dallas County primary runoff election.
According to Texas Election code, school buildings must be made available for use as a polling place in any election that covers territory in which the building is located. Being located solely in Dallas County, RISD typically has 26 elementary school buildings and two junior high school buildings that are utilized as polling places during primary elections, according to the details cited in the resolution.
The Texas primary and runoff elections are scheduled to be held the first Tuesday in March and the fourth Tuesday in May, both of which function as in-school days for RISD, according to Branum.
On election days, RISD is required for its designated polling places to provide access to the building to the general public and is prohibited from implementing security protocols that are typically in place and required on non-election days.
One proposed solution outlined in the resolution is to push primary election days to Saturday, which is allowed under the election code. District officials said this modification would eliminate the possible risk of an active shooter or other violence to school children, teachers or staff as a result of the school building being open to the public.
Other proposed solutions include allowing schools the option to not be open as polling places or to give districts the right to be able to implement security measures on voting days.
The resolution will next go to local legislators and other interested parties, including a superintendent colleagues group who would like to propose the resolution to their boards, Branum said.