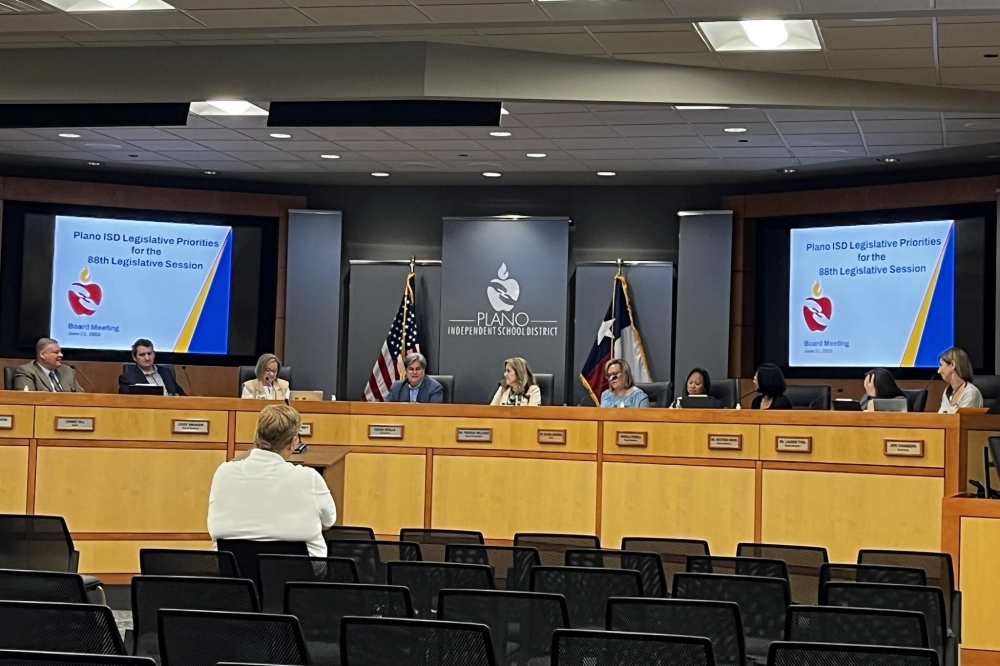 Trustees in Plano ISD adopted the 2022-23 budget during its June 21 meeting. The budget includes a $226.9 million recapture payment. (Erick Pirayesh/Community Impact Newspaper)
Trustees in Plano ISD adopted a budget deficit of $38.9 million for the 2022-23 school year during the board's June 21 meeting.
General fund revenue is projected to increase from last year's budget to $698.2 million. However, expenditures of $736.7 million, including a state recapture payment of $226.9 million, are expected to lead to the $38.9 million decrease in the district's existing balance of operating funds. PISD officials also stated that an estimated 500 student decline in enrollment is negatively affecting the district's general fund budget.
"Our recapture [payment] is going up higher than our tax collections [are] going up," Johnny Hill, deputy superintendent of business and employee services, said. "We only get so much money...in taxes per student and when [enrollment] goes down, then you're going to have recapture [payments] going up faster than collections."
Recapture redistributes property tax dollars from property wealthy districts to those deemed property poor by the state. The district's payment into the state's recapture system for the 2022-23 school year is a $14 million increase over last year, according to Hill. He stated during the May 17 meeting that PISD's recapture bill for 2022-23 was likely to be its highest ever and the second largest in the state.
The district has made more than $1 billion in recapture payments to the state over the last six years, according to budget documents. The board also approved a 4% pay raise on the control rate for teachers, librarians and nurses during its May meeting and a 3% increase on the control rate for all other employees. Existing and new employees will also receive a retention/new hire stipend after the beginning of the next school year as part of the package. Teachers will receive a $1,000 stipend while all other employees will receive $500.
As part of the new budget, staff is projecting revenue will total $27.2 million in the food and nutritional services fund and $170.1 million in the debt service fund.
The board also held a public hearing during the meeting to discuss the proposed decrease for the district's tax rate. The proposed tax rate of $1.27935 per $100 valuation is about a 3.13% decrease from the fiscal year 2021-22 rate of $1.32075 per $100 valuation.
The entire 2022-23 Plano ISD budget can be seen here.