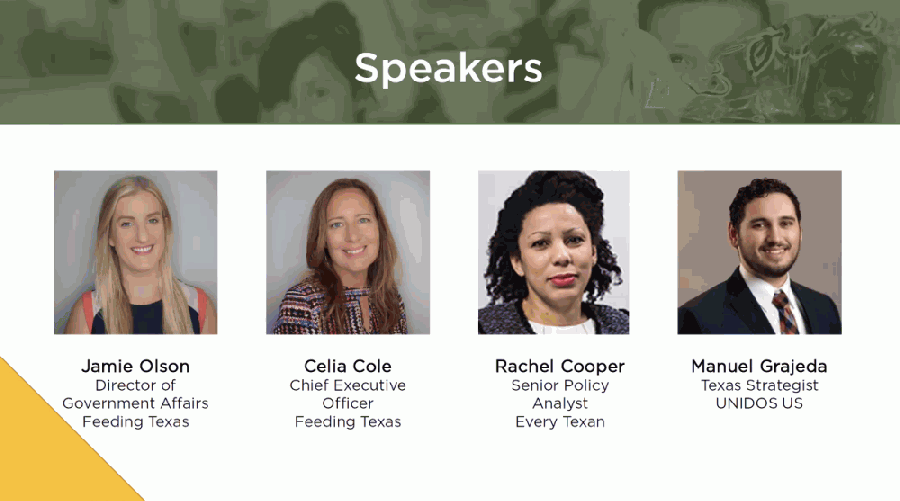 Feeding Texas hosted a Jan. 19 webinar to discuss legislative highlights for the 87th Texas Legislature. (Screenshot courtesy Feeding Texas)
The state of Texas' largest hunger relief organization, Feeding Texas, is looking to propose bills in this year's 87th legislative session that increase funding and accessibility for hunger-relief benefits in Texas, according to a Jan. 19 webinar on food policy hosted by the organization.
According to Feeding Texas CEO Celia Cole, reduced access to foods for healthy living can be exacerbated by the added pressures felt during the coronavirus pandemic, such as job loss. Cole said the effects of food insecurity often disproportionately impact vulnerable communities, including low-income households, seniors, people with disabilities, families with children and college students.
"In a nutshell, food insecurity forces tough choices for families, and can have devastating consequences," Cole said in a Jan. 19 webinar. "Hunger reaches deep into every community across Texas, there are hungry people in all 254 counties—every legislator has hungry constituents."
According to data collected by the U.S. Census Bureau's Household Pulse Survey, food scarcity in Texas amid the pandemic increased from 11.5% in late August to 16.5% in late December.
According to the webinar, Feeding Texas' legislative priorities include the following.
Increase Supplemental Nutrition Assistance Program accessibility to seniors and those with disabilities

Feeding Texas asks legislators to shorten the initial SNAP application, extend the certification period to 36 months, waive the recertification interview and notify seniors on Medicaid of their SNAP enrollment eligibility. Senate Bill 224 and House Bill 701 have already been filed.
Remove vehicle requirement on SNAP eligibility

The organization proposes certain vehicle asset limits be reduced or abolished for SNAP eligibility.
End full-family sanction of SNAP benefits based on ineligibility

To maximize the amount of benefits awarded to eligible recipients, the organization proposes legislators consider ending full-family benefit sanctions based on the head of household.
Improve SNAP employment and training program; expand college student eligibility

The organization recommends to increase funding to online SNAP application process to more efficiently process registrants and designate certain community college employment programs as eligible for SNAP benefits for eligible students.
Legislators have been able to file bills for the state's 87th legislative session since Nov. 9. While the 87th Legislature convened Jan. 12, bills can be filed until March 12, according to the Texas Legislature Online. The regular legislative session will end May 31.
Read more at Community Impact.