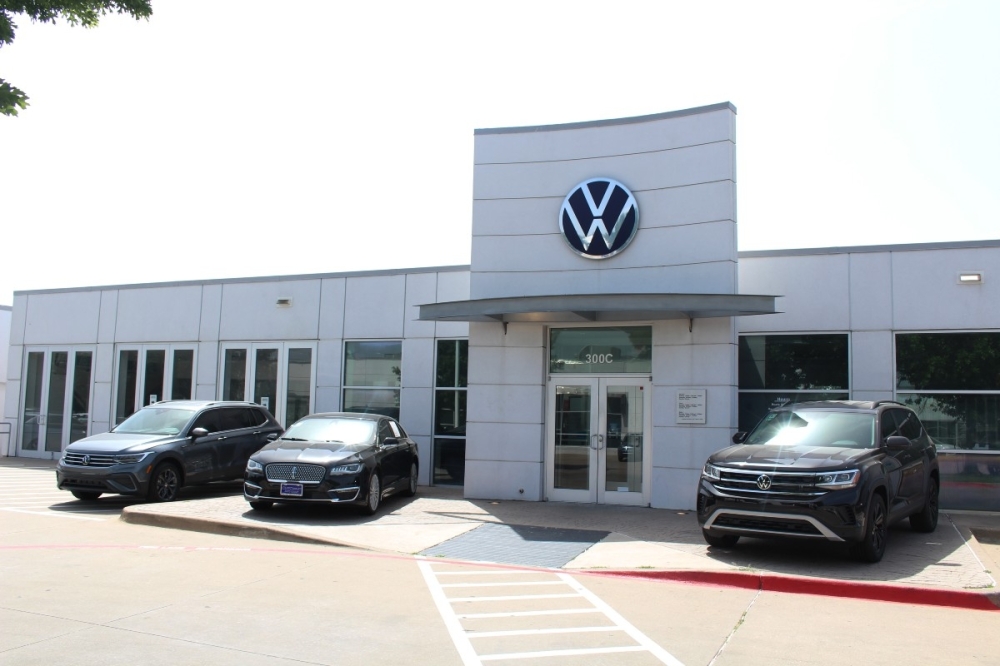 Volkswagen of Richardson is planning to undergo renovations starting this summer at its location at 300 N. Central Expressway. (Jackson King/Community Impact Newspaper)
Richardson City Council approved rezoning measures for an expansion of the Volkswagen of Richardson dealership during its June 13 meeting.
According to the approved rezoning proposal, the dealership plans to demolish three existing buildings adjacent to Central Expressway to accommodate additional vehicle display areas. In addition, the dealership will construct a 9,782-square-foot addition on the west side of its main building to expand the existing showroom area and a 12,341-square-foot addition on the south side to expand the vehicle service area. No changes are proposed for its two buildings located along Interurban Street, according to the resolution.
The 7.1-acre Volkswagen of Richardson dealership lot is located at 300 N. Central Expressway, and it is currently zoned as part of the Interurban subdistrict of the city's Main Street/Central Expressway PD Planned Development. According to city officials, the current zoning is designed for "an edgy, mixed-use district built upon the existing bones of the development."
The proposal was approved 5-2, with Council Members Ken Hutchenrider and Joe Corcoran voting against the renovations.
As part of the approved resolutions, Volkswagen is required to replace chain-link fencing with 8-foot tubular steel fencing along both Greer Street and Interurban. In addition, a 6-foot masonry wall will be installed around the current dumpster.
Drew Donosky, representing Volkswagen of Richardson during the June 13 meeting, said he hopes for construction to start in the next few months and be completed in 2023.